OWWL Library System Archived Events
Public libraries of Ontario, Wayne, Wyoming and Livingston Counties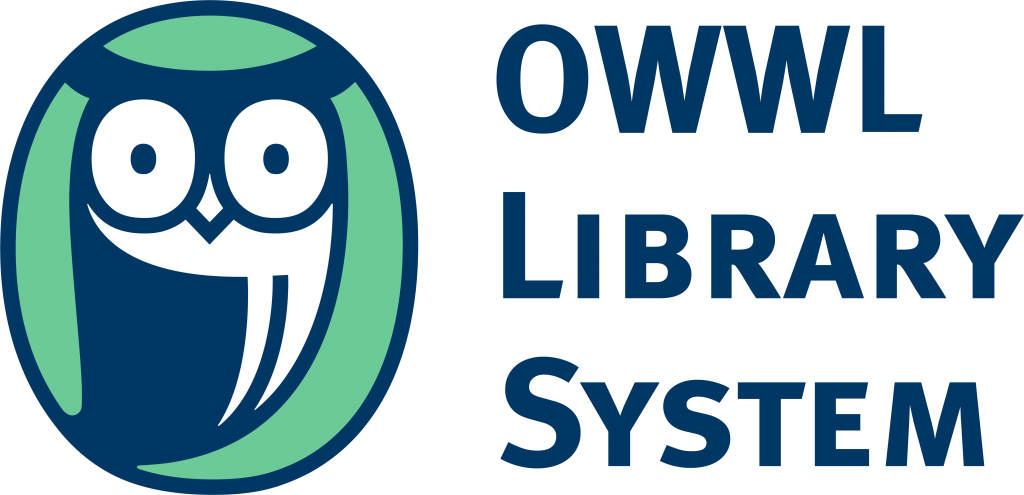 Below are libraries in the OWWL Library System that participated in past instances of The Great Give Back! Return to the previous page for information about what libraries will be participating in GGB this year. Please contact libraries directly for questions regarding offered programming.
2022
Collecting Supplies for Local Classrooms and Students
October 15th – 30th
The OWWL Library System is sponsoring a system-wide Great Give Back service project collecting supplies to support local classrooms and students.
Visit owwl.org/greatgiveback to learn how you can help!
Participating libraries:
Donate New Items to Happy Tails Animal Shelter
October 15-30
In partnership with OWWL Libraries' Great Give Back and Assembly Gallahan's Supply the Shelters initiatives, Victor Farmington Library will be collecting donations of new pet supplies to benefit Happy Tails Animal Shelter!
Food Drive
September 28 – October 16
We are collecting non perishable food to donate to the food pantry that is located at the United Church of Christ in Castile. Each item you donate gets you registered to win a prize! We draw prizes each Saturday.
Paws to Help
October 16-30
Dansville Public Library is partnering with Humane Society of Livingston County for the Great Give Back of 2021. We are collecting cat food (dry or wet), cat litter (clay or clumpy), dog food, toys & treats from October 16- 30, 2021 where we have made a drop off box available in the library's lobby.
Shelf Stable Food and Hygiene Need Collection
October 16-23
"The Macedon Public Library will be receiving donations of shelf stable food and hygiene items beginning on October 16 and running through October 23. All non-perishable foods and hygiene items are welcome unless packaged in glass. The items will be used to stock the Macedon Food Shed located on 31F in Macedon Center. Due to the fact that the shed is not heated, glass containers are not recommended. Preferred items will be packaged in plastic, aluminum or cardboard.The following items are in highest demand:
peanut butter, tuna fish, chunked chicken breast, canned ham or spam, strawberry jam, egg noodles, pasta, Ramen noodles, noodle side dishes, single serving fruit cups, oatmeal, cereal, pancake mix, syrup, laundry detergent, toothpaste, shampoo, conditioner, sanitary napkins, razors, and deodorant.
Anyone is welcome to donate by stopping by the library. Monetary donations and gift cards are also graciously accepted either at the library or by mailing them to:
Macedon Public Library
30 Main Street
Macedon, NY 14502
The Macedon Food Shed services people with food insecurities 24 hours a day, 7 days a week. All are welcome to "Take what you need. Give what you can."

Collection for Grace House
October 11-23
The Palmyra Community Library is collecting items for Grace House, a community outreach service of the Zion Episcopal Church that supports people in need of assistance. Items to be collected include blankets, sheets, towels, personal hygiene products, household cleaning products and disposable diapers.
The Mitten Tree
October 4 – November 30
Rose Free Library is collecting new mittens, gloves and hats for area youth in need. Imagine not having mittens or a hat to wear during the winter. Help area youth by dropping off mittens, gloves and hats for infants-teens to stay warm and enjoy the upcoming winter. No registration and not restricted to residents only.
Stevens Memorial Community Library
SMCL Great Give Back to Wyoming County SPCA
October 1-29
Stevens Memorial Community Library Attica will be collecting donations from Wyoming County SPCA Wishlist all through the month of October. Donations should be brought directly to the library during open hours at 146 Main St., Attica NY, 14011. Questions or for Wishlist suggestions, visit attica.owwl.org, or call the library at 585-591-2733. Please consider participating any way you can, to Give Back to our friends in need! No amount nor treat is too small. Registration not required. Participation not restricted. Some much needed items include: Monetary donations, wet and dry cat food, garbage bags, paper towels, blankets, towels, and laundry detergent. Thank You.
Audio Up! Repurposing CD players and Audiobooks
October 4-31
Wadsworth Library will collect CD players of all types that are no longer in use, and redistribute them to users who want to listen to audiobooks. We have learned that many of our users, especially adults 55 and over, would enjoy listening to audiobooks from the library's collection but they do not have devices to play the CDs. Many families have CD players they no longer use, as streaming music has become more popular. We will collect the CD players, make sure they work properly, and replace any needed headphones or earbuds. We will take names of patrons who would like to have a CD player, and once we have completed the collection we will distribute the players to the people on our list. At the same time we will weed the library's audiobook collection, and will be able to offer audiobooks to our users to get them started.
No registration is needed. Anyone who is in the area is welcome to bring in gently used CD players for distribution.
The Period Love Project
October 1-31
Wood Library will be collecting donations for www.periodloveproject.org during the month of October. Donations of feminine hygiene products will be collected in the lobby of the library. Period Love Project's mission is to provide period products for menstruating people who are economically constrained. They currently support Ontario County and the surrounding upstate New York region. Visit www.periodloveproject.org to find out how you can help online.