Thank you to everyone who participated in The Great Give Back 2022! Check back often as pictures from this year's events are submitted and uploaded. All libraries will be listed alphabetically. Check back in 2023 for details about next year's event!
Jump to a Library System:
Finger Lakes Library System
Nassau County Libraries
Ramapo Catskill Library System
Southern Adirondack Library System
Suffolk County Public Libraries
Apalachin Library
Diapers from the Apalachin Library donated to the KIND (KIds in need of diapers) in Owego, NY.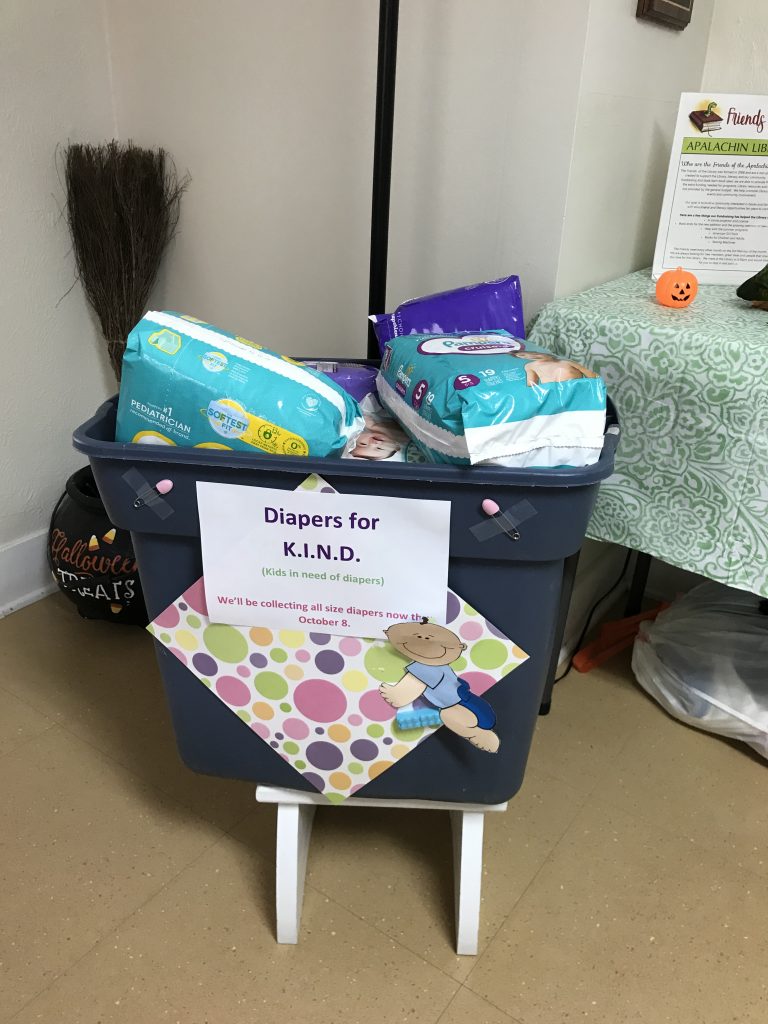 Berkshire Free Library
Candor Free Library
We collected non-perishable food and personal care items for Bread of Life Food Pantry in Candor, NY.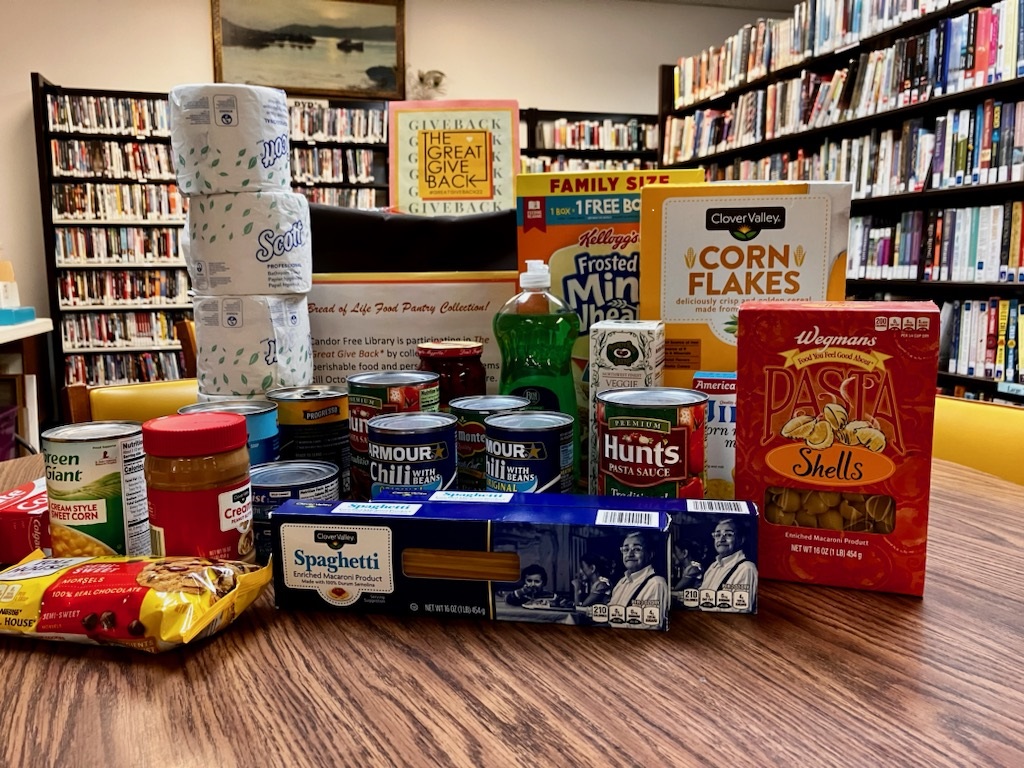 Coburn Free Library
Coburn Free Library gathered 30 packs of diapers, wipes and creams for the KIND project.
Finger Lakes Library System
The FLLS gathered urgently needed items for their local SPCA.
Lamont Library
Port Byron Public Library
Port Byron Public Library collected non-perishable foot items for two local food pantries!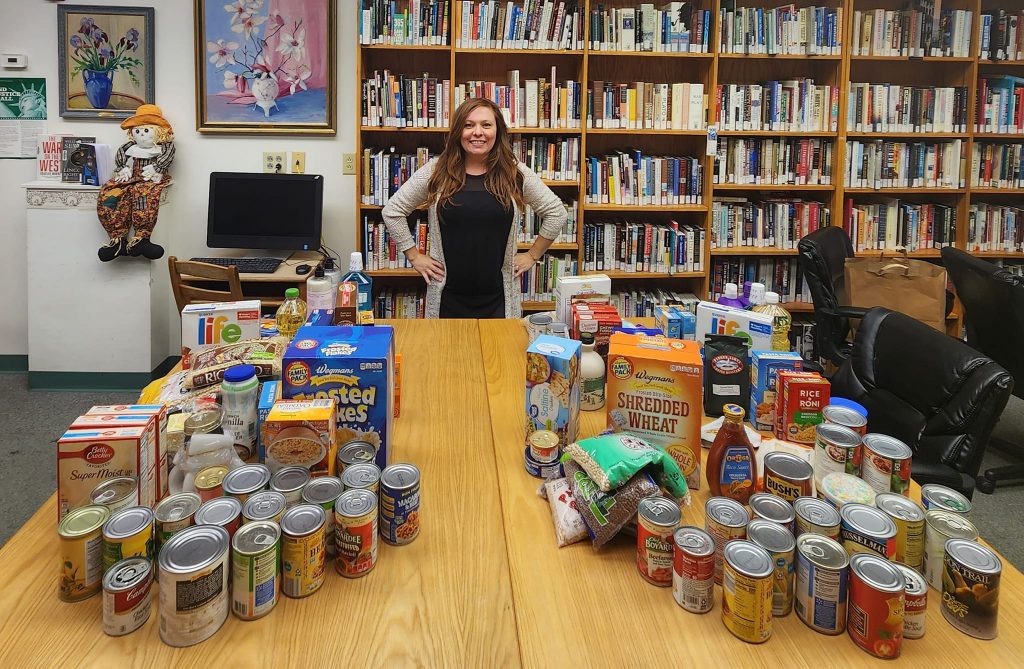 Elmont Library
We had teens earn community service hours helping our children make cat toys. These toys will be donated to the North Shore Animal League.
Franklin Square Library
This year we partnered with Rescuing Familes Inc. Rescuing Families™, Inc., is a charity aimed to assist struggling homeowners with disabilities and/or financial hardships with home rehab or modification. We created baskets that could be raffled off at their upcoming Halloween Fundraiser where proceeds go to fund a construction project for a family in need.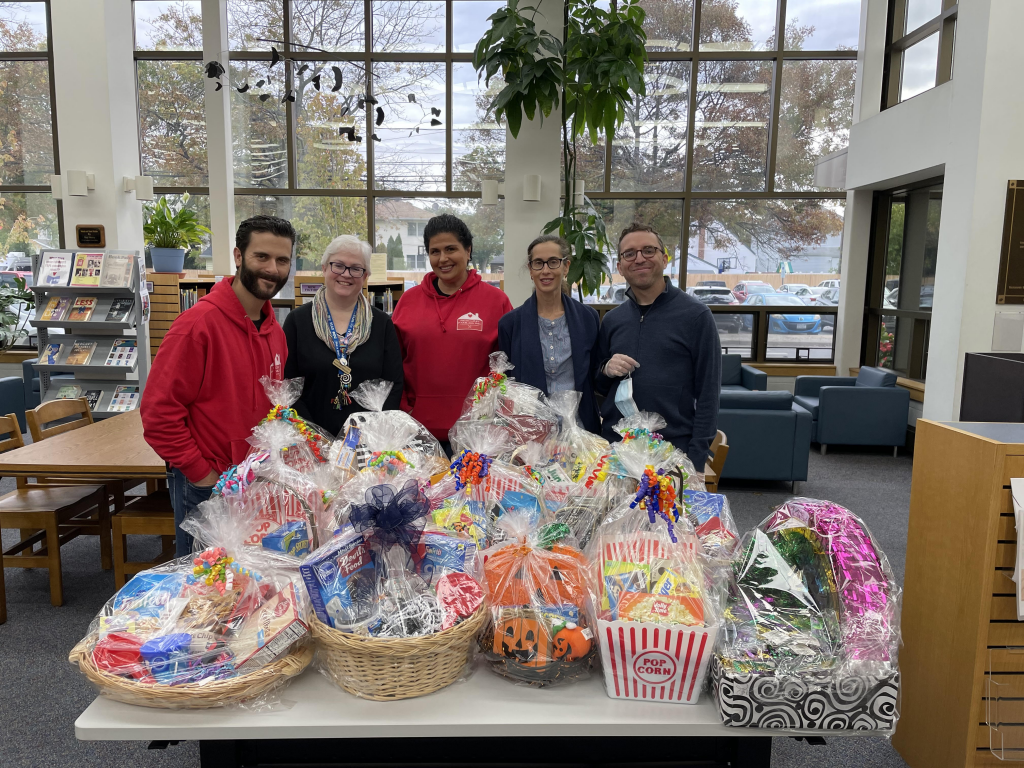 Our Teens created the baskets on the day of the Great Give Back and our Children's dept worked on a Seasonal Craft that cost $2 per child and all proceeds went to Volunteers for Wildlife.
Island Trees Public Library
On Saturday, October 15, sailors, soldiers, and volunteers "packed out" 21 USPS boxes of donations at the Island Trees Public Library to mail to our active military overseas. The boxes held gifts, candy, cards, and toiletries and should be delivered on time by the holidays to an army base in Japan as well as to the USS New Orleans at sea. Teens that participated received two hours of community service.
Lakeview Library
Lakeview Library held a cleaning and paper goods supply drive for Bethany House.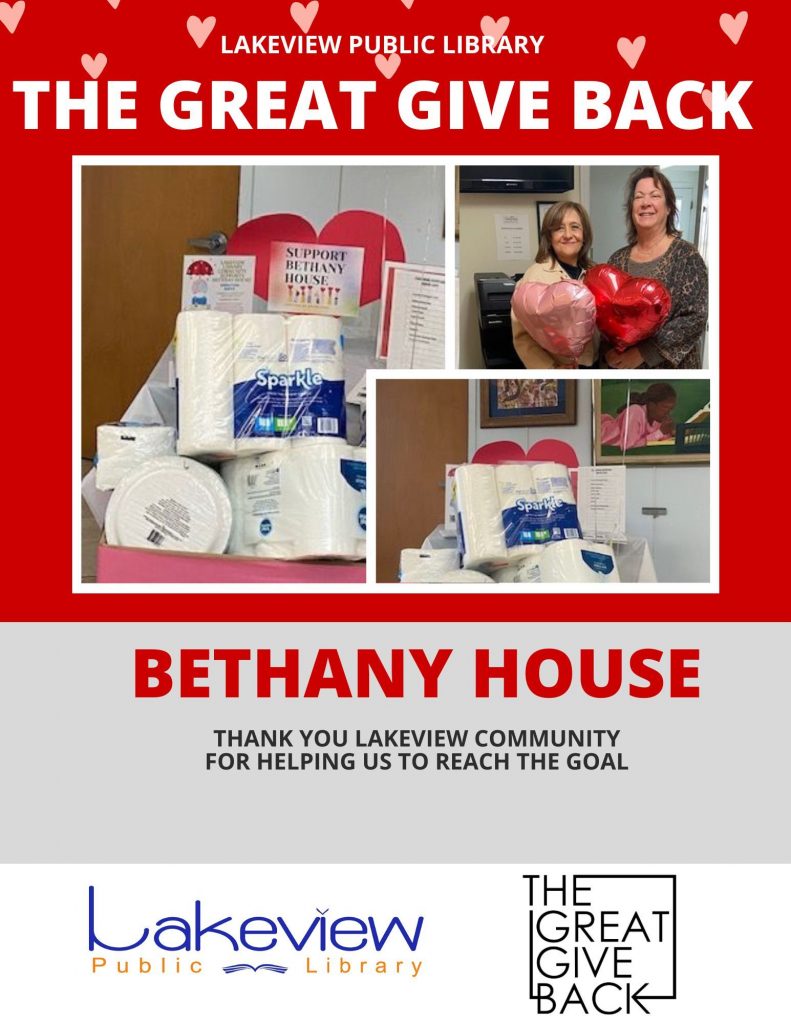 Lynbrook Public Library
Book Giveaway & Halloween Costume Giveaway
Gold Coast Public Library
Gold Coast Public Library in Glen Head hosted Pumpkin Decorating, where patrons decorated pumpkins donated to The Regency at Glen Cove (an assisted living facility).
Peninsula Public Library
The "Gifts of Appreciation" craft program gave children the opportunity to show gratitude & love to the people in their lives by gifting them with personalized bracelets and keychains they made.
During our "Sock Drive" the PPL library partnered with the Marion & Aaron Gural JCC in Cedarhurst by giving staff and library patrons the opportunity to donate socks to those in need.
Uniondale Public Library
Programs: Food for Fines, Pollinator Kits, Sock Drive and Concert by LA BlackSmith.
Oyster Bay Library
The Oyster Bay-East Norwich community donated 72 pairs of socks for Veterans. They will be donated to General Needs in Northport.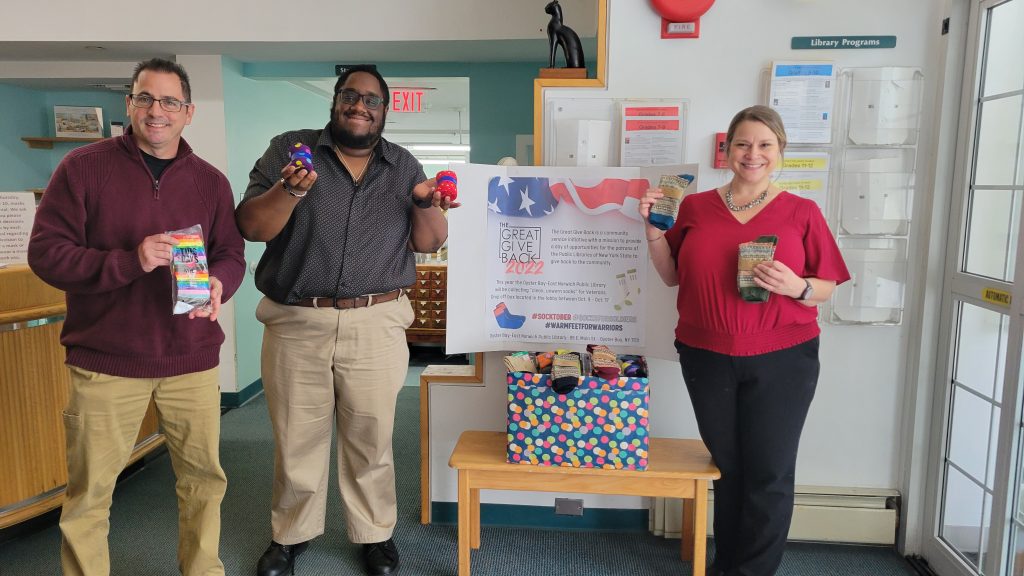 Cornwall Public Library
From October 10th through 21st , Cornwall Public Library Community members contributed new packages of diapers and wipes to be donated to Baby Steps Baby Pantry. Over 3,600 wipes and 1,300 diapers are being donated. That makes a lot of clean bottoms and happy babies!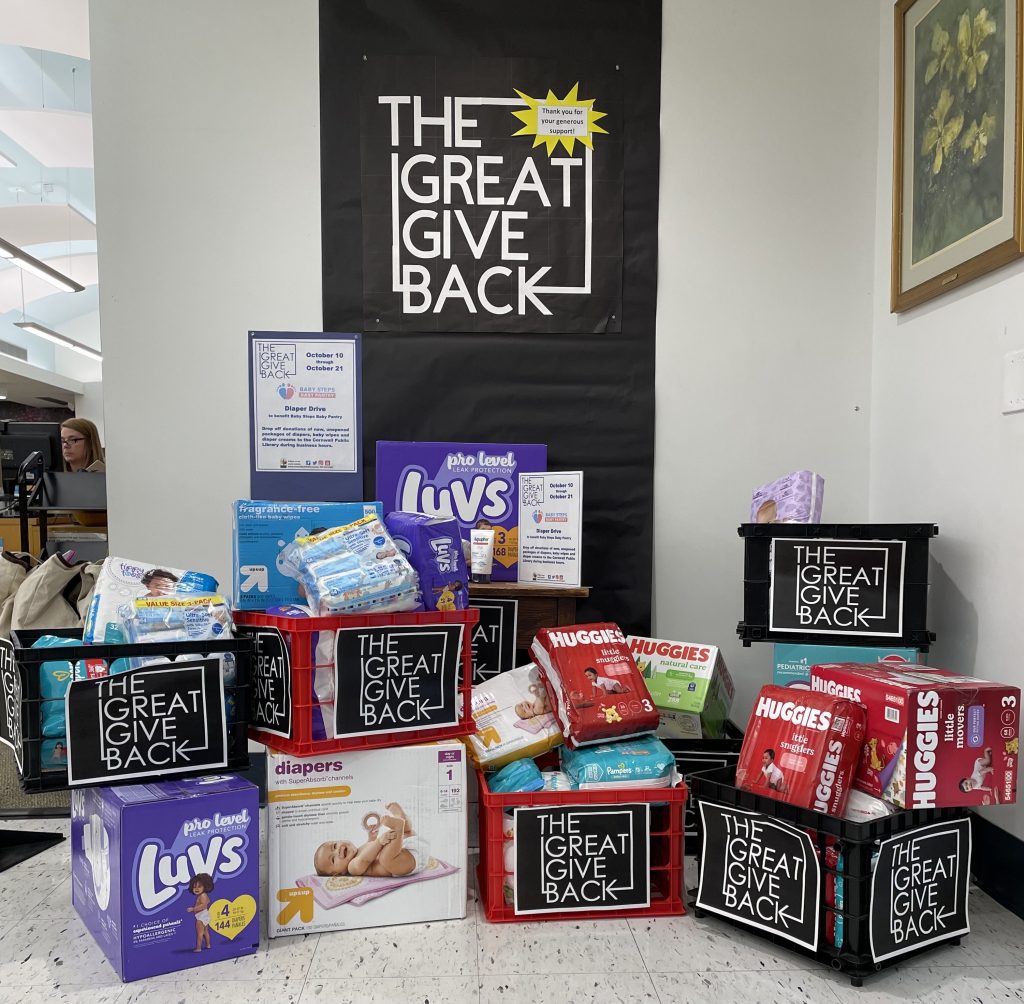 Florida Public Library
For the Great Give Back, the Florida Public Library partnered with the local Florida Community Food Pantry.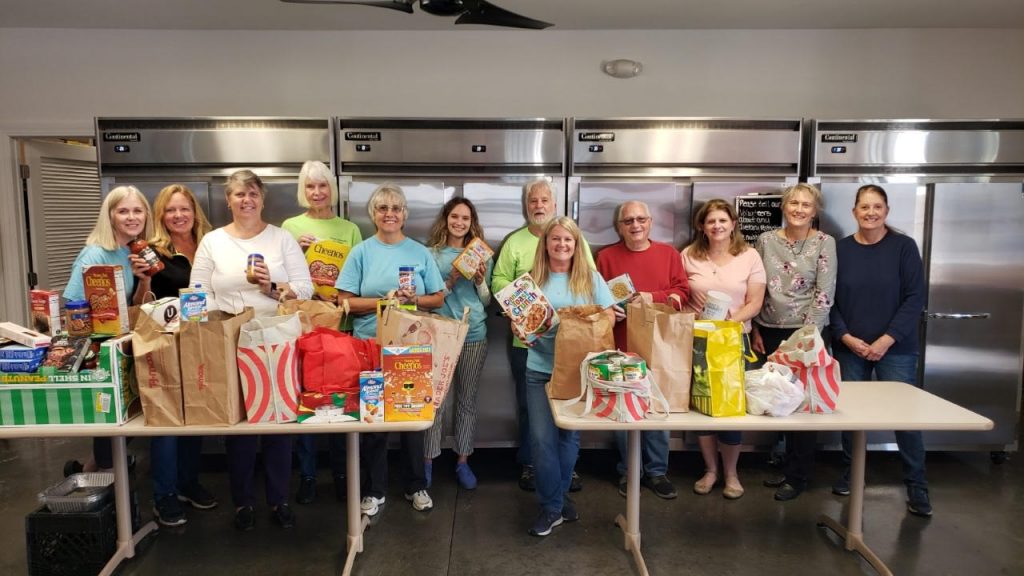 Orangeburg Library
From October 17-23rd, we asked our patrons to donate non-perishable items to be collected for People to People, a local food pantry serving Rockland County. We are thrilled with the results. We received hundreds of items to be given to those in need.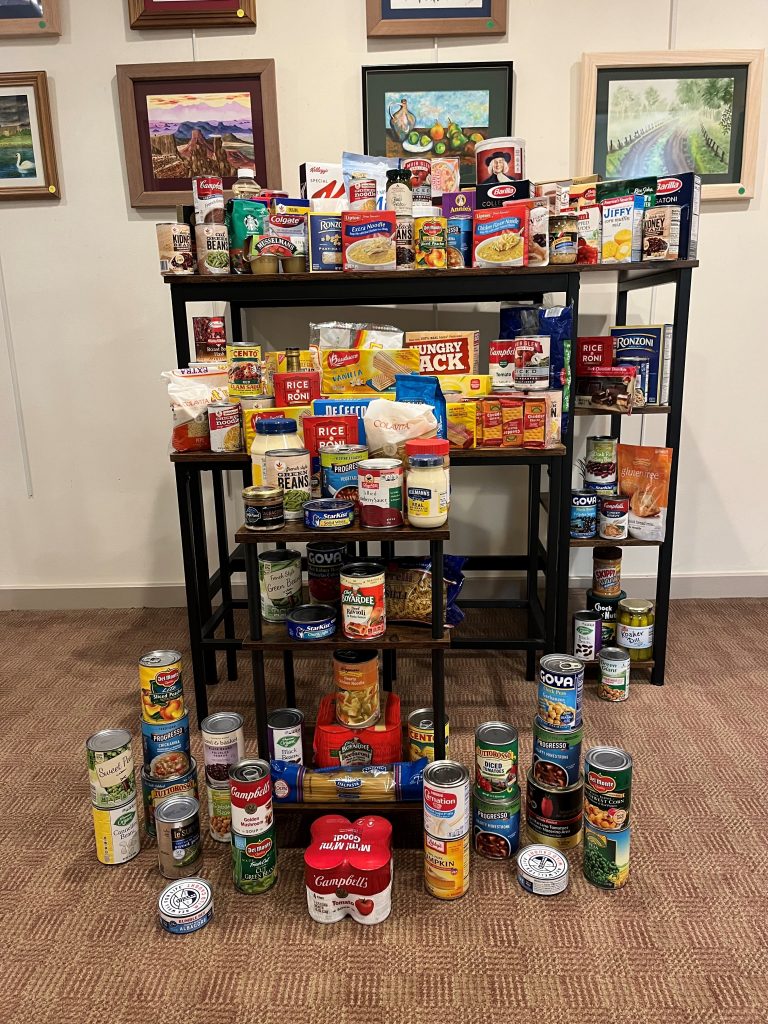 Western Sullivan Public Library
Salem Bancroft Library
We partnered with Books In Kids' Hands, the Salem Food Pantry, and the Salem Historic Courthouse during our community's Trunk or Treat. The library's theme this year was Eat, Read, and Get Scary. When kids were trick or treating during the event, we provided them with a healthy snack (granola bars), free gently used children's books, and two different Halloween crafts. Kids get excited about getting candy when trick or treating, but they also were also super excited about getting some new books too! It was a wonderful evening filled with so much fun and our library was able to give back to our community in a big way!
Brentwood Public Library
Brookhaven Free Library
Brookhaven Free Library partnered with the community, SCPD, Precinct 5 and The Brookhaven Village Association to collect toiletries and water bottles and to clean up our community. Volunteers bagged much garbage and put together over 200 bags of toiletries for SCPD to give to those in need. 
Comsewogue Public Library
Pumpkins for Food Pantry: We partnered with Agape for Kids and collected 132 pounds of food for school age children. Agape provides food insecure children with weekend food. Food is handed out via schools on Fridays.
Cutchogue-New Suffolk Free Library
FAMILY COMMUNITY SERVICE PROJECT #1 – Cleanup
This year Cutchogue-New Suffolk joined forces with The Group for the East End in stewardship of natural preserves within the town of Southold. We collected 103 pounds of garbage at Breakwater Beach in Mattituck!
FAMILY COMMUNITY SERVICE PROJECT #2 – @ Garden of Eden Organic Farm & Market, Riverhead
We helped glean the farm fields at Garden of Eden Organic Farm & Market for Long Island Cares, an organization that provides food to pantries across Long Island.
MARINE MEADOWS EELGRASS RESTORATION WORKSHOP (Cornell Cooperative Extension)
Adults and Teens joined us at this hands-on workshop to learn more about the importance of eelgrass to our marine environment while helping Cornell Cooperative Extension staff assemble eelgrass planting units for use in local restoration efforts. This workshop is made possible thanks to the National Fish and Wildlife Foundation. We made over 100 eelgrass discs ready for planting!
Middle Country Public Library
Emma S. Clark Memorial Library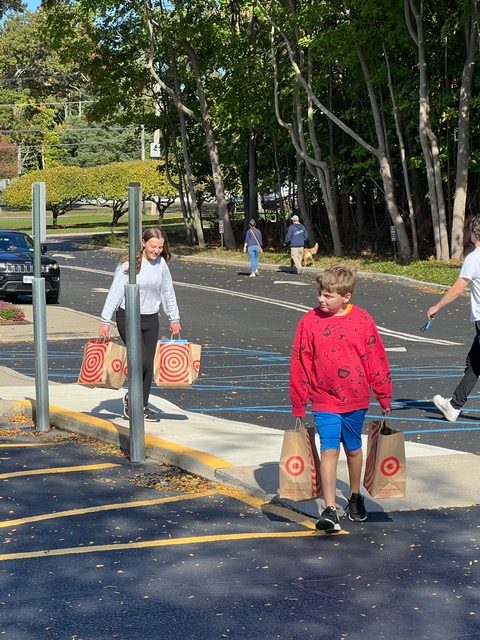 Northport-East Northport Public Library
Northport-East Northport Public Library created a Baby Items collection that ran the entire month. We set up a collection basket with baby themed decorations in the lobby and children's room in both of our library buildings. The items benefited new families at a local family health center.
Sachem Public Library
South Huntington Public Library
West Islip Public Library
Our teens painted bird feeders to be donated to the local chapter of the Audubon Society and had a great time doing it!