Jump to your library:
Bethlehem Public Library — Bethpage Public Library — Blodgett Memorial Library — Clinton Community Library — Colonie Library — Comsewogue Public Library — Cutchogue-New Suffolk Free Library — Desmond Fish Public Library — Fairview Public Library — Grinnell Public Library — Hauppauge Public Library — Middle Country Public Library — North Bellmore Public Library — Pawling Library — Philmont Public Library — Riverhead Free Library — Saugerties Public Library — The Smithtown Library — South Huntington Public Library — Wantaugh Public Library
Bethlehem Public Library is hosting an outdoor Community Art Show for the 2020 Great Give Back. Participants were able to pick up signs to decorate with cheerful messages, and these are now displayed on the lawn leading into the library. The goal of this year's Great Giveback project is to use art to highlight the good in our community while creating a new, safe, outdoor experience for people to enjoy.
The Bethpage Public Library has partnered with the community's food pantry, St. Mother Teresa Outreach & Food Pantry located in Bethpage. We are collecting food and personal products from October 1 through 30 where we have made a drop off box available in the library's lobby. We continue to collect products from our very generous patrons throughout the month of October.
We are holding a food drive and are collecting non-perishable items from 10/01/20-11/18/20. All donations are going to The Fishkill Food Pantry.Every person who donates one non-perishable item will be entered into a raffle to win a Thanksgiving Dinner.
Clinton Community Library collected pet food and supplies for animals in need on behalf of the Dutchess County SPCA!
Fall is the season of harvest and giving thanks. To celebrate the season, the Colonie Library is collecting boxed and canned food to donate to local pantries. Please help us to fill our basket for families in need! We filled our basket to the brim our first week collecting. Thank you to everyone who has already donated! Check our website for hours and directions.
It was a beautiful fall day for the Great Giveback as we offered a free sugar pumpkin in exchange for a food donation to Long Island Cares! A Virtual Volunteer Fair was included for both adults and teens, as well as many remote teen service opportunities.
Cutchogue-New Suffolk Free Library
For our Family/Children's Event for The Great Give Back at the Cutchogue New Suffolk Free Library, we had a Community Chalk Art Event to spread positive messages and kindness. The event took place on Saturday, October 17 at 11:30am. Below are the beautiful pictures and messages of kindness created by members of our community. What a fun event for all!
The Desmond-Fish Public Library partnered with Riverkeeper to host a River Sweep at the Garrison Landing!
Fairview Public Library collected donations and assembled Happy Birthday Bags to be donated to our local food pantry. All kids deserve to celebrate their special day and these birthdays-in-bags make that possible!
The Grinnell Public Library District collected non-perishable food from October 1 – 17 for the Zion Church Food Pantry.
We asked our community to decorate reusable grocery tote bags and fill
them with food donations for Long Island Cares Food Bank. We opened up
our event to all ages, but teen volunteers received official community
service credit for participation. We were amazed at the artistic results
and the generosity of donated food items. 42 Bags were collected with a
grand total of 236.7 pounds of food! Thank you, Hauppauge community!

Thanks to the kindness and generosity of our amazing community, this year's Great Give Back take-and-make programs were a big success. Children, teens, and adults made and donated 60 hats, 30 scarves, 50 place mats for meal services, over 100 face masks, and over 150 cards for troops and hospital workers!! We can't wait to send all of their hard work out to the recipient organizations.
North Bellmore Public Library patrons got creative painting Stars of Hope, which are sent to communities facing crises such as natural disasters, violence, or other challenges.
The Pawling Library partnered with the Pawling Resource Center for The Great Give Back, a day in which libraries offer our patrons the opportunity to help people in their community. To assist those during the pandemic, volunteers donated their time and talent to make nearly 100 protective cloth face masks in sizes from toddler to adult. Donated masks were presented to and are being distributed to people in need by the Pawling Resource Center.
For the 2020 Great Give Back Day, The Philmont Public Library held two events for a local animal rescue. We hosted an adoption event for Everlasting Hope Animal Rescue on the 17th and we are collecting donations for the month of October for the rescue. Our adoption event was very successful and so much fun! Who doesn't love spending time with puppies? Four sweet little puppies found their forever home! It was a great day! Our patrons are also being very generous with the pet supplies. One of our young patrons, Godric, saved his change from collecting bottles and used it to buy supplies for the rescue! We have an awesome library community!
DIY Tote Bags for Maureen's Haven: Patrons joined us in our courtyard to decorate tote bags that will be filled with soup, oatmeal, and socks for Maureen's Haven.
This is a picture of all the materials the Saugerties Public Library gathered for the Saugerties Animal Shelter between October 1 and 17, 2020. We collected:Paper Towels: 10
Dry Cat Food: 109.5 lbs
Cans of Cat Food: 76
Litter: 28.6 lbs
Toys: 3
Blankets: 68
Towels: 30
Dog Treats: 101 oz
Dog Training Pads: 50
Isn't our community great? (GGB team answers: YES!! Thank you Saugerties!!)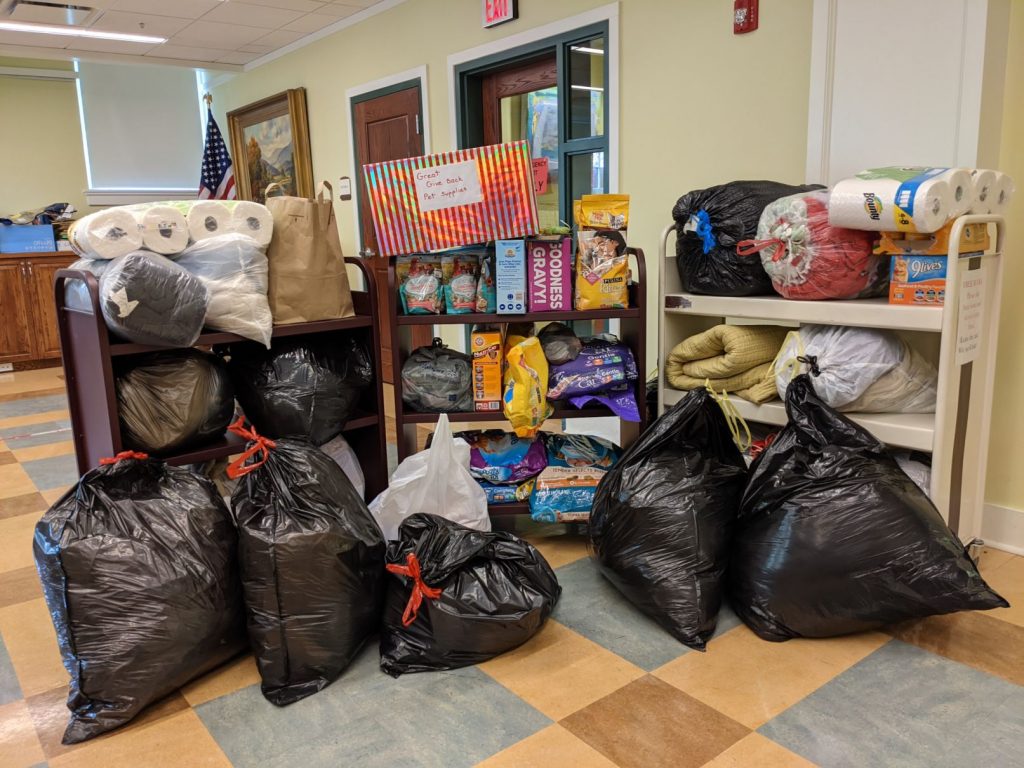 Smithtown celebrated this countywide day of volunteering by inviting patrons to pick up an age-appropriate packet to complete.
South Huntington Public Library
South Huntington Public Library held a program and a food drive with LI Cares. We collected a variety of food items and items specifically for pets!
Wantaugh held a food drive for Island Harvest!