Mid York Library System Archived Events
Public libraries of Herkimer, Madison, and Oneida Counties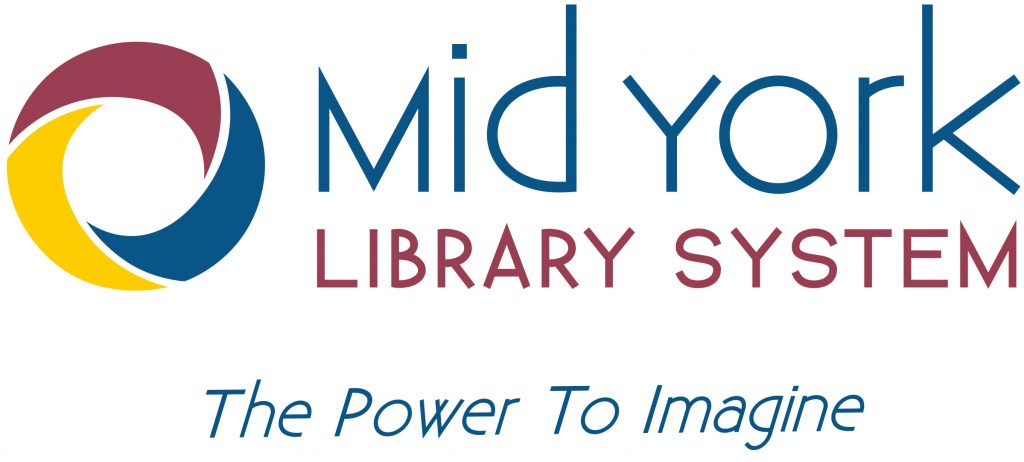 Below are libraries from Mid York Library System that participated in past instances of The Great Give Back! Return to the previous page for information about what libraries will be participating in the GGB this year. Please contact libraries directly for questions regarding offered programming.
2022
Non-Perishable Food Drive
October 1-15
Non perishable food drive for local food pantry
Troopons® — Coupons for Troops
October 1-15
The Support Our Troops® Troopons® program enhances the well-being of overseas and domestic military families by sending them food, non-food, baby, and pet manufacturer coupons to make their hard-earned dollars go farther.
Christmas Toy Fundraiser
November 15-December 8
Catholic Charities is doing a toy/clothing drive for Catholic Charities, and Dunham Public Library is a drop off site.
The Giving Fence
October 1, 2022 – April 1, 2023
Every year, we help our neighbors in need by accepting donations of new or gently used hats, scarves, mittens, gloves and socks. We've received donations from individuals and from groups. These items are hung on the fence outside the library. Anyone is free to take what they need. The program goes on all through the winter months, helping to keep our community warm.
Runaway & Homeless Youth
October 1-31
The Frankfort Free Library will be collecting items on the Wish List for the local Runaway & Homeless Youth Program during the month of October.

Hamilton Food Cupboard Donation Drive
October 15-31
The Hamilton Public Library will be hosting a food drive from October 15th-31st to support the Hamilton Food Cupboard.
Halloween Crafts and Costume Center
October 1-31
Visit the library for free Halloween crafts and costumes. Gently used costumes may be exchanged or donated. Dress up your favorite stuffed animal for Halloween and walk the cat walk to show off your animal's costume at 11 am, Saturday, October 29th. Patrons may donate pet supplies for Wayward Paws animal rescue.
No registration required.
Feed Our Pets
October 1-15
Prospect Free Library is collecting pet food and treats for cats and dogs. Items will be donated to Sarah's Pet pantry, which is part of Foothills Rural Community Ministry in Holland Patent, NY. Monetary donations for Sarah's Pet Pantry to purchase pet food are also accepted. Donation bins for items are located at Prospect Free Library, 116 Upper State Street, Prospect and at Prospect Post Office, 209 Church Street, Prospect.
2021
Non-Perishable Food Collection for Local Pantry
Friday, October 15
9:00 am-5:00 pm
For all ages
The Canastota Public Library will collect non perishable food items for the Opportunity Shop Food Pantry on Friday, October 15, 2021 from 9am to 5pm.
Our Community Cares: Cancer Patient Care Boxes
September 18 – October 16
Collecting of materials to offer comfort to people undergoing cancer treatment. Our Fiber Arts Circle is creating lap blankets, hats, mittens and slippers for the boxes.
"Troopons" – Coupons for Troops
October 1-16
1:00 pm-6:00 pm
For all ages
Help us collect coupons for our domestic and overseas troops and their families help make their hard earned dollars go farther.
No registration required. Please drop your coupons in our bin in the library lobby.
Helping the Humane Society
October 2-16
We're asking community members to donate items to help the Humane Society of Rome care for the animals housed in their shelter. Their greatest need is for litter pans, bleach, cat litter, and soft dog treats. For a complete list, visit the Humane Society of Rome's website at: https://humanesocietyrome.com/wish-list/. Items can be dropped off at Erwin Library from 10:00 to 5:00 until Oct. 16th or on Oct. 2nd during the Community Shred Day.
The Giving Fence
October 16, 2021 – March 1, 2022
The Giving Fence provides warmth in the cold winter months. Donated hats, gloves, mittens, scarves, and socks are hung outside on the library fence. We accept new or clean, gently used items to share with our neighbors in need. Anyone is free to take what they can use.
Collection for Runaway & Homeless Youth program
September 20 – October 22
The Frankfort Free Library will be collecting items for the local Runaway & Homeless Youth program. Items may be dropped off at the Library during normal business hours. Visit the Library's website for a list of items being requested.
Food Drive for Rome Rescue Mission
October 5 – November 1
The Jervis Public Library is collecting non-perishable food items for Rome Rescue Mission. Donations can be dropped off in the collection bin located in the lobby at any time until November 1st.
The Great Giveback
October 1-30
New Hartford Public Library is proud to be participating in the Great Giveback. The Great Giveback is a way to provide a day of opportunity (but in our case a month!) for patrons of public libraries to give back to their communities. We will be collecting canned goods for the Seeds of Hope Food Pantry located at First Presbyterian Church in Utica. Donations can be dropped off and placed in the collection box just inside the lower level entrance doors starting October 1st and ending October 30th.
Caturday in "Mew" Woodstock
Saturday, October 16
2:00-4:00 pm
All ages are welcome
Join us for a fun-filled afternoon with Wayward Paws featuring a presentation on black cat myths & superstitions, a chance to meet and play with adoptable kittens and cats, and cat-themed crafts. This event is free, but donations to Wayward Paws are appreciated. Visit www.bit.ly/nwcats for more details on adopting or fostering cats from Wayward Paws.
No registration required.
Food Pantry Collection – non perishable goods
October 1 – November 30
We are accepting non perishable food items for local food pantry serving the VVS district.
The Morrow Warming Center Donation Drive
October 4-22
The Library will be accepting donations for The Morrow Warming Center- a low- barrier shelter in our neighborhood.
The Warming Center is requesting the following items: blankets, socks, underwear, warm mittens, small shampoos, body wash, deodorant, razors, shaving cream, hairbrushes, combs, and washcloths.
Smaller/travel-size hygiene items are preferred. New items only please, with the exception of gently used blankets and mittens.
Donations will be accepted in the main lobby of The Library between 10am-2pm starting Monday, October 4th, through Friday, October 22nd.
For patrons wishing to give a monetary donation, go to: www.morrowwarmingcenter.org.
Collection for House of Paws Rescue Inc.
October 9-16
The Westmoreland Reading Center will be collecting items for the House of Paws Rescue Inc. of Utica. This organization provides care, medical attention, and love, for dogs in need while working to place them in their forever homes. Donations can be dropped off during the open hours of the reading center starting 10/09/2021 through 10/16/2021. To view a list of items on their wish list, please visit the website for the House of Paws at: https://houseofpawsrescue.wixsite.com/website
Community Shred Event
October 9
9:00 am-12:00 pm
At the Forestport Town Barn
Woodgate Library is partnering with the town of Forestport to host a shredding event. Residents may bring a maximum of 5 cartons or garbage bags.