Four County Library System
Public Libraries of Broome, Chenango, Delaware and Otsego Counties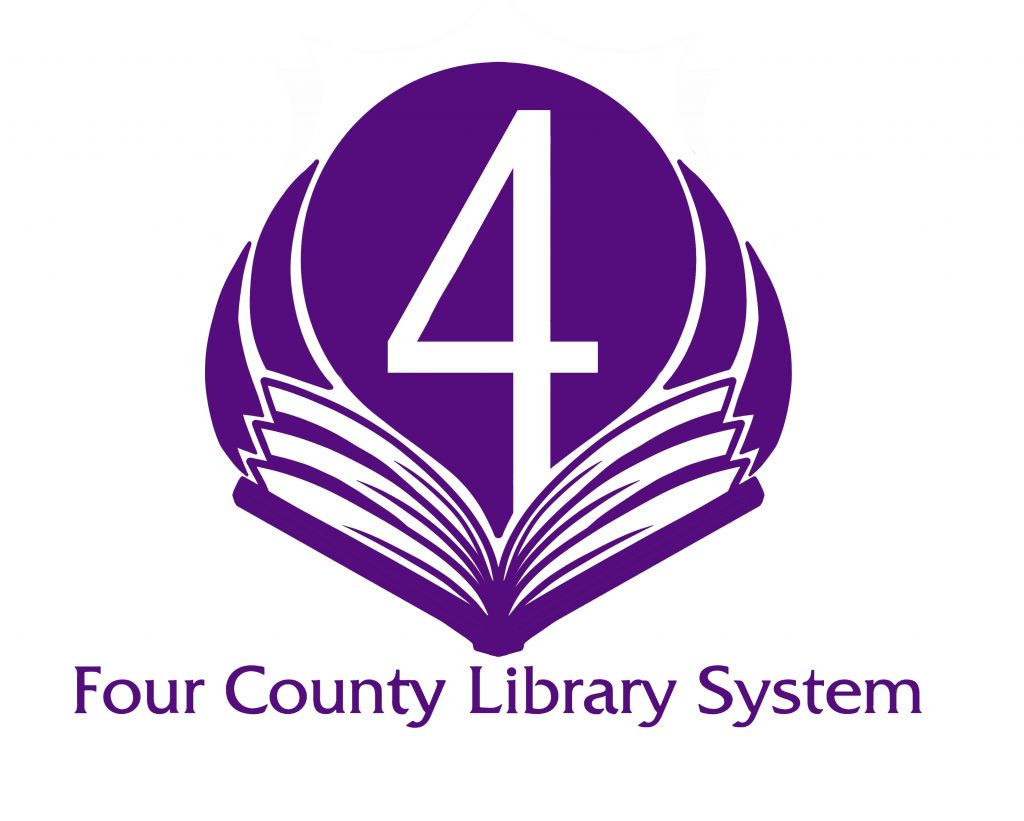 Below are libraries from the Four County Library System that will be participating in The Great Give Back 2023! Check back often for updates; details about programs will begin to be shared around the beginning of September. Please contact libraries directly for questions regarding offered programming.
Edible Landscape Fall Cleanup & Prep
October 21st from 12:00-3:00pm
Around the library and in Bohlman Park
All ages
In preparation for spring planting of our edible landscape for the community, we have scheduled an outside work day to fill planting containers and raised beds with dirt, clear invasive bushes and trees, trim and landscape around the Veteran's monument, and reclaim some overgrown areas. Volunteers are welcome to come with gloves and garden tools in hand to pitch in.
The Andes Public Library is a lovely mountain town nestled in the beautiful Catskill Mountains of upstate New York's Delaware County. For more information or directions, please visit our website at www.andeslibrary.org, email an.ill@4cls.org, or call 845-676-3333.
No registration required
Community Cleanup
October 13th from 10:00-11:00am
Ages 5+
During the 2023 Great Giveback our library staff and friends will be doing a Business District cleanup. Bring gloves because we will be cleaning up flower beds.
No registration required
Great Give Back to Benefit Catherine's Cupboard
October 16th-20th from 10:00am-6:00pm
All ages
Help us give back to our community!! Fenton Free Library will be collecting donations for Catherine's Cupboard as part of the Great Give Back. Catherine's Cupboard is always in need of: Canned Good (beans, veggies, sauces, etc), Dry Goods (pasta, rice, cereal, etc), Toiletries (toothpaste, shampoo, soap, deodorant, etc), Baby diapers, Women's Personal Items, Blue Trash Bags for City of Binghamton, and Condiments (Mustard, Ketchup, Mayo, BBQ Sauce, Soy Sauce, etc). These items canned be dropped off at our library October 16-20th from 10-6. Simply come into the library and drop off your donation. Thank you for the support!
No registration required
George F. Johnson Memorial Library
Great Give Back
October 21st – November 25th from 9:00am-5:00pm
All ages
George F. Johnson Memorial Library will host a Community Donation Drive to benefit the Union Endicott and Maine Endwell School Districts. We will accept non-perishable food, personal care items and cleaning products. Please drop off donations during library hours. Check out our website (gfjlibrary.org) or our Facebook/Instagram (George F. Johnson Memorial Library)for library hours and to see the flyer with the list of items you can donate.
no registration required
Support the Pets of Butternut Valley
October 2nd-21st
Gilbertsville Free Library will be collecting pet supplies (new and gently used) and pet food for our local pet pantry. A basket will be placed in the library for collection from Oct. 2 (during library hours) to be presented Oct. 21 to the director of our pet pantry. Anyone who donates can bring a photo or their favorite pet to be displayed within the library if they choose.
No registration required
Collection of wish lists items for the Chenango SPCA
October 1st-31st
All ages
Donate cleaning supplies (bleach, paper towels, Pine-Sol, disinfectant wipes), dry pet food, canned pet food and peanut butter to the shelter. Visit chenangospca.org and view the wish list under "Donate Today." Bring your donations to the library. Thank you for participating.
No registration required
Village of Whitney Point Clean Up Day
October 21st from 9:00am-12:00pm
All ages
Bring your work gloves and join in tidying up our beautiful Village
o registration required
Free Book Giveaway
October 21st from 9:00am-3:00pm
All ages
Free books for the taking! Refreshments provided, raffle drawing for a gift card.
No registration required
Crochet for Charity: TwiddleMuffs
October 21st from 10:00am-1:00pm
All ages
Oxford Memorial Library is hosting a Crochet for Charity event. We will be making TwiddleMuffs to donate to local nursing homes and care facilities for people with Alzheimer's and Dementia. If you can knit or crochet, then you are ready for this program. Yarn and other supplies will be available, but feel free to bring your own hooks, needles, or yarn if you want. TwiddleMuffs are sensory handwarmers used to help keep your hands busy when anxious picking or fidgeting can be an issue. Patterns will be available at the event, and you can find them ahead of time on our website, www.oxfordmemoriallibrary.org . If you aren't able to finish a TwiddleMuff the day of the event they can be returned to the library the following week (10/23-10/28).
No registration required
Fall Family Festival
October 28th from 1:00-3:00pm
Gaines park (next door to our library)
All ages
Fall Family Festival – Games, Crafts, Costume Contest, Cider & Donuts. Free Event with donations going to the SPCA.  Please check our Facebook page for the list of items or cash donations are also accepted.
No registration required
The Great Give Back
September 1st – November 1st
Teens & Adults
Do you know how to knit or crochet? We need your help! As part of an annual library initiative called The Great Give Back, the Ogden Library is partnering with the Walton Toy Bank in a special community service project to provide hats for local children. The library has been given fifty skeins of yarn to be turned into hats for infants to children age eight. Stop by the library to sign up to participate and to be given yarn for as many hats as you wish to make. We have some simple patterns available, or you can use your own. Return your finished product to the library before November 1.
Stop by the library to sign up to participate and to be given yarn for as many hats as you wish to make. We have some simple patterns available, or you can use your own
Click here to see past GGB events in the Four County Library System!